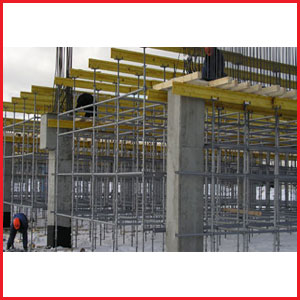 MS Cuplock Scaffolding System
Cuplock / Cup lock is a unique node point connection allows up to four horizontal members to be connected to a vertical members in one single action - without the use of nuts and bolts or wedges. The locking device is formed by two cups. Single node point action of unique locking make 'cuplock/Cuplock' a fast, versatile and optimized system of scaffolding for scaffolding for construction, demolition and maintenance projects throughout the globe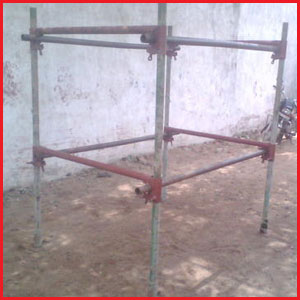 APS Scaffolding System
The range of high quality APS Unit Scaffolding Systems is designed by a team of highly skilled professionals. These systems have horizontal crossbar with inbuilt 'three way clamps' at both the end that rest on lugs.
Base Stirrup Head
The Adjustable Base Stirrup Head Jack provide a method of adjustment which can be used at either the top or bottom of a scaffold support structure. It is in conjunction with foreheads and adapter and can accept the full loading capacity of cuplock when fully braced.
U Stirrup Head
Owing to our rich industry experience, we are involved in manufacturing, supplying and trading Adjustable Stirrup Head. Offered range is ideal as scaffolding for wall-plastering and support staging for centering of high slab.
Base Plate
Add more stability to your scaffold structures with a base plate. Made from heavy-duty steel, the base plate can withstand the elements and any challenges your jobsite may pose. It can also be used with the leveling jack with socket end.
Clamp or Coupler
Our company has gained immense accolades in the field of offering Scaffolding Universal Clamp to the clients. Scaffolding Universal Clamp comes in low carbon steel based construction with support of nut, bolt and washer choices so as to offer quality usage value.
Joint Pin
Our company has been acknowledged in offering Scaffolding Joint Pin to the clients. Scaffolding Joint Pin is available in various sizes and can be customized as per the specifications given by esteemed clients.
Spigot pin and washer
Spigot is connecting internally and to allow ease of joining. Though small in size. They are important part of scaffolding network as they alone are able to support structure up to multistoried.
Scaffolding Wheel
We are the leading manufacturer and supplier of Scaffolding Caster Wheel. There are ball bearings in the pivot mechanism to handle high loading.
MS ISMC 100 Channel
Sourced from some of the reliable vendors of the market especially from Steel Authority of India Ltd, these are fabricated using high grade mild steel in the production process. These steel channels are widely used as a structural support in construction works.